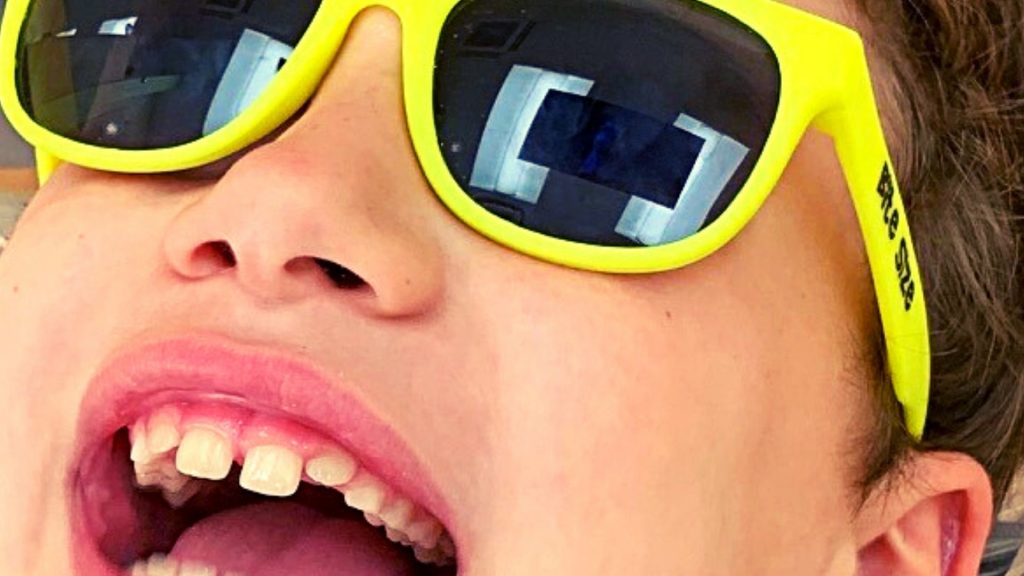 ---
The time has come – your child has a wiggly tooth! They are now at the age where baby teeth will exfoliate (get loose and come out) and adult teeth are moving into their new home. This exciting time generally occurs around age 5 or 6, but it is always important to remember that each child's eruption and exfoliation patterns are different (some occur earlier and some later than others).
When a child has a mixture of both baby teeth and adult teeth, this is called a mixed dentition.
When comparing the appearance of baby teeth versus adult teeth, you may notice:
Adult teeth may erupt behind a loose baby tooth – we call this a "shark tooth" because there are 2 rows of teeth. The baby teeth may be on their way out and this can be a normal period of transition. Adult teeth are much bigger and wider when compared to baby teeth and they are trying to find their space to fit in. In many cases, the baby tooth  hasn't received the "signal" that a new tooth is here to take its place. In this case, the baby tooth may need to be removed by a dentist. If you notice your child has shark teeth encourage them to give their baby teeth a wiggle everyday!

New molars are erupting behind the existing baby molars – these are called permanent 6 year molars! In some cases, kids are very aware these are popping through the gum tissue and may have some discomfort (just like when babies have discomfort when teething). In other situations, kids do not feel them erupting at all! 

The adult teeth appear to be more yellow in color than the surrounding baby teeth – this is completely normal. This is due to the structure of the tooth – the 2nd layer of the tooth, dentin, is much more dense than it is in baby teeth. Because of this and its yellow color, it shows through the enamel more.

The adult teeth have more ridges on them – these are called mamelons and help the adult teeth cut through the gums more easily during eruption. Again, these are normal and usually go away when these teeth start to function more normally (eating, touching other teeth). 
This is an important time in tooth development and requires special attention to oral hygiene. New teeth are erupting and our children may not be familiar with where the new teeth are located yet, especially those 6 year molars! We advise parents to continue to help with brushing and flossing at this time for a couple reasons – 1) manual dexterity – kids may not have the dexterity to properly reach all areas of the mouth yet to brush/floss effectively, 2) vision – an adult will be able to visually see all new teeth to brush/floss effectively.
At your child's routine dental visit with Bite Size Pediatric Dentistry in Frankfort, IL and Oak Lawn, IL, our pediatric dentists will guide you on your child's eruption and give tips to improve home care based on each child's needs. Have more questions about your kiddos mixed dentition? Don't forget to ask at your next appointment or give our office a call! 🙂
---