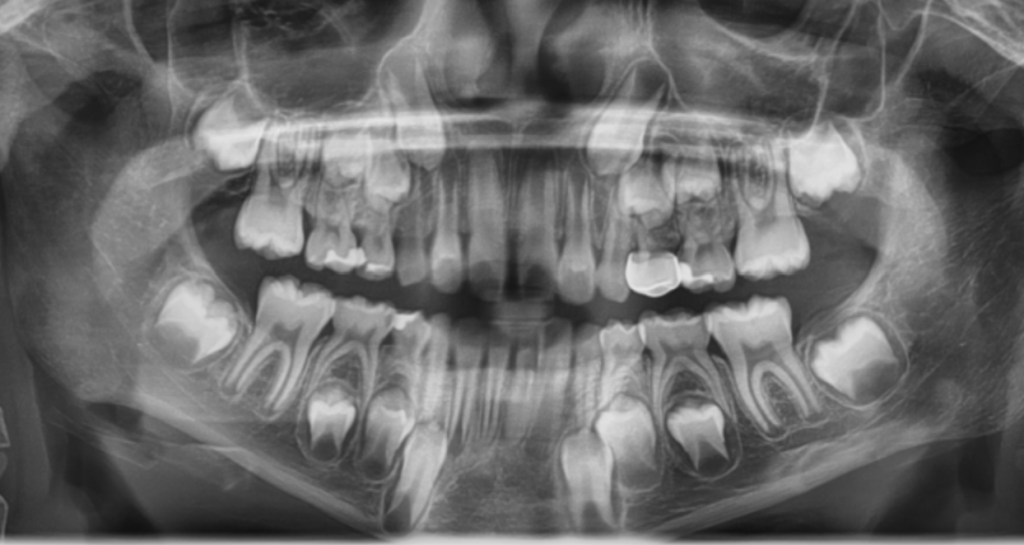 ---
The question of "why do you take xrays on baby teeth, aren't they going to fall out?" is common in pediatric dentistry. And while xrays are used for many purposes in dentistry, panoramic xrays are a great tool for dentists to view the entire mouth in one image – both the top and bottom jaw.
So what are we looking for in a panoramic image? The pediatric dentists at Bite Size Pediatric Dentistry in Frankfort, IL typically prescribe panoramic images when patients are in a mixed dentition, meaning both primary and permanent teeth are present (keep in mind that all patients and their dental needs are different). Panoramic xrays show us all teeth – erupted or unerupted – and all tissues and structures surrounding the teeth, making sure all tissue and structures in the jaw and all teeth are healthy. This is the best way to monitor growth and development and check for any dental anomalies as well as cysts or tumors. 
Did you know that we can be missing or have extra teeth? Congenitally missing teeth are teeth that simply never developed. While some genetic conditions can cause congenitally missing teeth (also known as hypodontia), this can also be hereditary! Many times someone else in the family is also missing teeth. Having congenitally missing teeth is fairly common. By taking panoramic images at an early age, we are able to determine if any teeth are missing and be able to form a plan to best fit the patient's needs, which will likely include a referral to an orthodontist. Both missing and extra teeth can cause problems with occlusion (how teeth come together).
While some kids are missing teeth, others may have extra teeth! These are called supernumerary teeth and are any number of teeth more than the usual dentition. Many times supernumerary teeth are unable to erupt into the mouth due to limited space and can only be detected on a xray, which is why panoramic xrays are a great diagnostic tool!
Have more questions about missing or extra teeth or panoramic xrays? Ask your Bite Size pediatric dentists at your next visit!
---