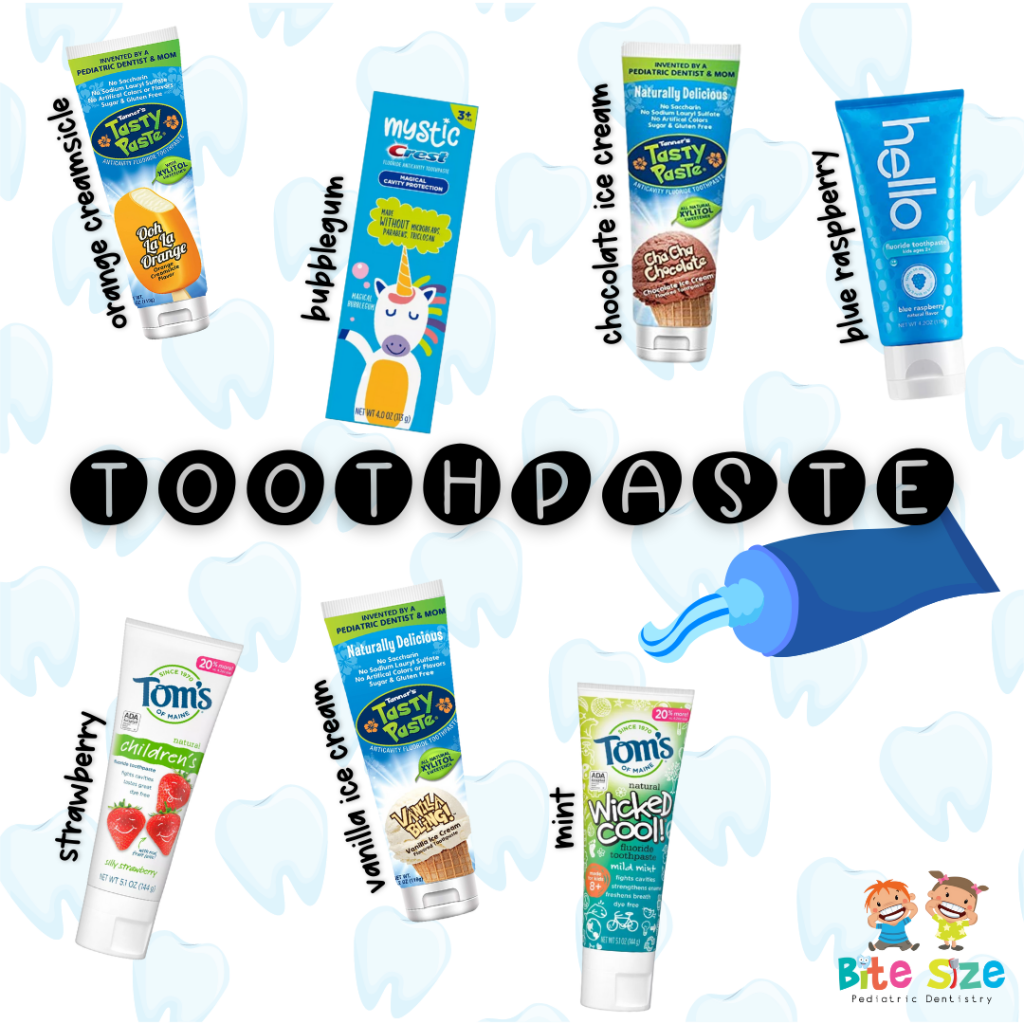 ---
Working with kids, we frequently get asked by parents about toothpaste – what brand to buy, how much toothpaste to put on our toothbrush, and more importantly – where can I find a flavor my child will like?
Most grocery stores likely have the usual flavors – mint, strawberry or bubblegum, but what about kids who don't enjoy those flavors? We want toothbrushing to be a positive experience and choosing the right flavor can make or break the task!
Thankfully online retailers can help us easily search for those hard to find flavors that may not be readily available in stores or even give us the ability to search what stores carry certain flavors. 
Here are some of our recommendations for toothpaste flavors that our patients have loved!
Tanner's Tasty Paste – Created by a pediatric dentist and mom, Tanner's Tasty Paste was made with delicious flavors that kids will love and make them want to brush! Their flavors include vanilla ice cream, chocolate ice cream and orange creamsicle. With a creamy texture and yummy flavor, Tanner's Tasty Paste is sure to make brushing exciting and tasty. This is a great option for kiddos who don't enjoy fruity, bubble gum or minty flavors. Tanner's Tasty Paste can be found on Amazon.
Hello Toothpaste – Hello can be found at the grocery store or with online retailers to find a larger selection of flavors. One popular flavor from our patients – blue raspberry! This brand also carries flavors such as grape and watermelon. Another brand with a great creamy texture for kids who prefer to stay away from gritty toothpastes. 
Tom's of Maine – Tom's of Maine brand toothpaste can be found at the grocery store or with online retailers to find a larger selection of flavors. The strawberry flavor is highly recommended by many Bite Size families because of the great flavor and smooth, creamy texture. Mint is also available in their children's toothpaste line. Other flavors found for online purchase – orange mango and wild blueberry.
Crest – found at grocery stores and online retailers, Crest is one of the most commonly known brands. Known for having fun characters on the labels, Crest bubblegum toothpaste is a great toothpaste option for bubblegum lovers! Colgate, another commonly known brand at the grocery store, is another great option for bubblegum and watermelon toothpaste!
As for how much toothpaste to place on the toothbrush, the American Academy of Pediatric Dentistry recommends for children under the age of 3 to use a rice-sized amount of toothpaste and for children 3 and up to use a pea-sized amount. 
Have more questions about toothpaste? Be sure to ask your pediatric dentist at your next visit with Bite Size Pediatric Dentistry! 🙂
---